Travelling for older adults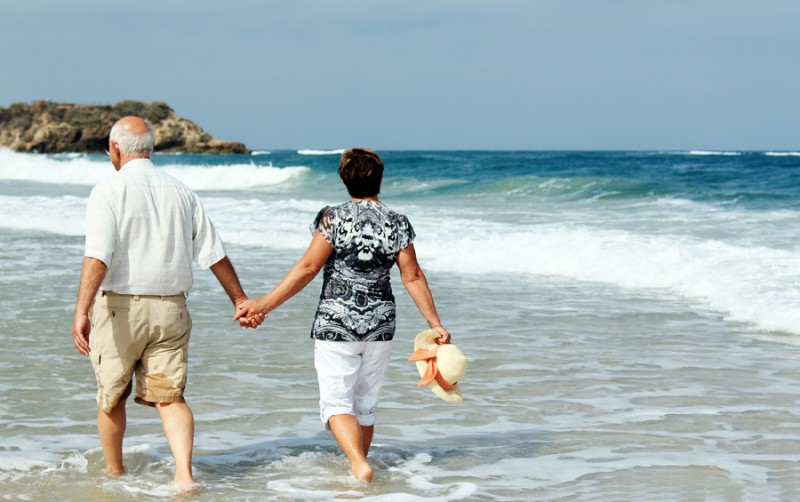 The way in which older people travel has changed. We're here to tell you how.
At an age where the pace of life and priorities have changed, tourism can be a very enjoyable and rewarding experience as long as you are fit to travel. In addition to allowing you to discover new places and have new experiences, travel also has certain benefits for older people: it improves mood, stimulates brain activity, strengthens memory and attention span… all of which help us to feel happier and more full of life.
Holidays and trips for older people
The tourism sector is adapting to demographic changes. As the number of older tourists continues to grow exponentially, the industry is offering an increasing number of trips and excursions tailored to the needs of our senior citizens. Of course, it is important to keep in mind that we're no longer the same as we were twenty years ago, and so there are some basic recommendations that should be followed when planning a trip.
First of all, it is very important to plan your trip in advance. This means deciding on where you will be travelling to, how you are going to get there, what clothes to pack, medication to take, and any needed travel vaccinations. As breaking from one's routine can be challenging at this age, it is also advisable to plan what you will eat, keeping in mind the type of food available in your destination.
What things are essential for older people when travelling?
The most important things that older people should never forget under any circumstances are health records, medication, and vaccinations. Always remember to take with you (no matter where you are travelling):
Your individual health card, in order to be seen at a Spanish public health centre.
Your European Health Insurance card, if travelling in Europe. You can apply for this card at the nearest Social Security Information office.
Travel insurance policy, if travelling abroad. Travel agencies can provide you with more information about this.
Most older people take some form of regular medication, and this routine should be decided upon and made very clear prior to travelling. In addition, you should inform your doctor of your travel plans so they can provide you with any necessary instructions.
If you are not taking any regular medication, you should bring along a first aid kit in case of emergencies.
Top destinations, transport, and trip duration for older adults
It is best to choose nearby destinations so as not to spend too much time getting there, with average temperatures (not too hot or cold) and a cuisine that is suitable for older people.
You might opt for a plane, car, or train as your means of transport. Different measures should be taken for each of these options.
Plane: It is very important to get to the airport early in order to complete all airport procedures and pass through security controls without having to rush. Airports are often chaotic and can span across long distances. If needed, you can request a wheelchair or for someone to accompany you.
Train or bus: Again, it is important to get there early, although train and bus stations are usually smaller and easier to get around in.
Car: Travelling by car can be a comfortable option as it gives you the freedom to decide what time to leave and how often to stop. However, it is important to consider whether the car is suitable for long journeys.
Whichever way you choose to travel, before leaving home, make sure to check you have all necessary documents with you (tickets, ID card, passport).
Travel time should not exceed 5 hours in order to ensure you remain comfortable. It is also important to get up once or twice every hour in order to stretch your legs and arms by walking a little up and down the aisles (whether in a plane, train, or bus), or by stopping for breaks at motorway service areas if travelling by car.
Travel clothing for older people
You should also keep in mind what clothes to bring with you. You should pack loose, comfortable clothing anytime you travel, adapting your choices to the weather conditions in your travel destination.
In keeping with the above recommendations, Fundación Casaverde has developed the 'Healthy Holidays for Older People' project. This is a new initiative designed and developed to ensure that older people who require special assistance can also enjoy going on holiday. The programme combines leisure activities and recreational excursions with therapeutic activities, all of which are carefully tailored to individual needs.
With this initiative, Fundación Casaverde can study the beneficial impacts tailored holiday packages with adequate care, climate, and diet considerations have on the overall health of older people. The project is part of Grupo Casaverde's commitment to promoting healthy and active ageing. The programme has individual bookings for anyone who would like to participate, whether you live in Spain or abroad. For more information, click here.