Alberto Giménez receives the gold medal awarded by Forum Europe 2001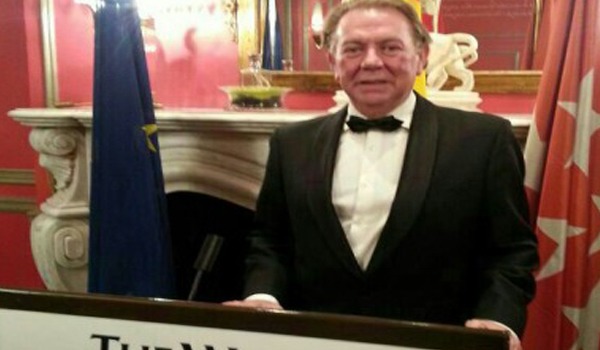 Europa Forum was founded in 1996 and enjoys broad recognition in Europe. Outstanding personalities who have received this award before are, among others, Josep Piqué, Luis Del Olmo, Carmen Posadas, Quique Sarasola, Joaquín Barraquer.
During a gala dinner held last Friday 15th at the Westin Palace Hotel in Madrid, Alberto Giménez received from Don Jose Luis Salaverria, Europa Forum president, the gold medal of the annual awards granted by Forum Europe 2001. This award is given to those who have distinguished themselves by their prestige and experience in the professional, cultural, political or social world.
After receiving this award Alberto Giménez state that " he was grateful to the organizers for this award because it recognize the great work that professionals and workers from Casaverde group have been making in recent years, helping to place the group as a leader in its industry in innovation and quality of its services".
Alberto Gimenez, president of Casaverde a group dedicated to the health field. It has four health centers and two rehabilitation hospitals. The group employs more than four hundred people and is in a period of expansion with several projects in various regions. It also has an international presence through an alliance with various hospital´s from Alicante to attract European patients in order to be operated and rehabilitated. They are also working with the University Miguel Hernandez in an induction sport program for disabled people and the University of Alicante on a holiday project for elderly people which plan is to incorporate other European universities.
The group has a foundation that works specially in research and training. One of its projects is the construction of a unique robot in Europe created to work on upper limb rehabilitation in virtual environments.
Through the Casaverde Foundation, Alberto Giménez chairs the Health and Economics Foundation which is collaborating with institutions of great prestige in Spain: IESE Business School, Boston Consulting, the Lilly Foundation, the Foundation IDIS, the Spanish Society of Healthcare Executives (SEDISA), National nursing Association (ANDE) the National Federation of dependency care, CRB Inverbio Investment Funds, among others.
Alberto Gimenez reiterated his gratitude and said that "these awards contribute to continue working on new projects to improve health conditions and care of our citizens. Health, understood as quality of life is one of the most precious treasures we have. GDP that measures wealth of a country should include not only economic data but indicators of well-being or quality of life of citizens".