Adapted bath at the beach for dependent and elderly people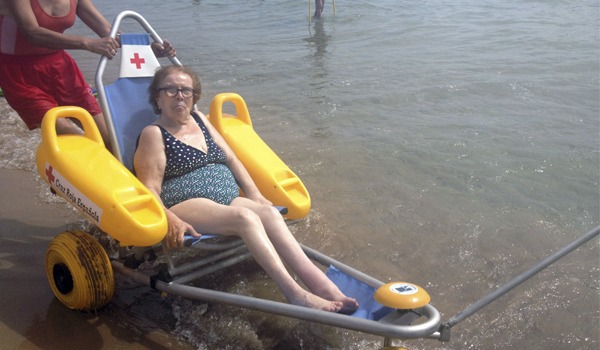 On July 9th, the Red Cross, in collaboration with the Nursing Center Casaverde, launched the Adapted Bath Project for elderly and disabled people on the beach of Guardamar del Segura.
To do this, Casaverde has organized a trip during which residents with disabilities could enjoy a swim in the sea, thanks to amphibious wheelchairs, canes or special crutches, with the help and protection of Red Cross volunteers and staff from Casaverde´s Nursing Home that were attentive to each of their movements.
Comunitat Valenciana has 81 points of accessible beaches for people with disabilities or reduced mobility, according to the "Dirección General de Personas con Discapacidad y Dependencia" from the Generalitat. This service is essential to allow disabled people to go to the beach; about 70,000 people with disabilities have enjoyed beaches from our region during the past year.
Casaverde and Red Cross have agreed to perform this activityv of adapted bath every 15 days so more people could benefit from this feature, due to the good reception hosted by the project in previous years. From Casaverde Group, we want to thanks all the volunteers for their support smiles from our resident's shows the good job they did!